Friends of Library, County Council form funding partnership
The Friends of the Aiken Library (FOL) and the Aiken County Council are working together to upgrade and improve the Aiken County Public Library. On Tuesday, Aug. 20, the county agreed to a proposal that could help renovate the historic building.
"We are fortunate to have a library in the heart of Aiken, housed in a historically significant building," FOL president Bill Reynolds told the county council. "I assure you we are the envy of many cities."
The library has more than 150,000 users each year, but it has not had many updates since it moved into its current location on Chesterfield Street in 1990.
The Friends of the Library offered to contribute $1 for every $2 the county contributed toward renovation, up to $1 million. The council has already dedicated $1 million toward updating the front and rear entrances from the Capital Project Sales Tax IV funds, and all council members expressed an interest in forming a partnership with the Friends of the Library to pursue further funding.
The first wing of the building was built in 1891, and it was originally a school. The second wing, which houses the library, was added in 1913. The front steps were built in 1920.
You can view the master plan for future ACPL renovations at the Friends of the Library website, aikenlibraryfriends.org.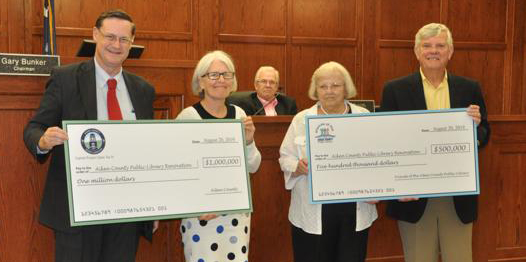 More information about the partnership:
https://www.aikenstandard.com/news/county-council-s-response-to-public-private-partnership-proposal-to/article_16a0a8be-c379-11e9-a2be-a7937f9be3b9.html
https://www.wjbf.com/csra-news/aiken-county-public-library-on-the-verge-of-getting-a-major-upgrade/
https://www.wfxg.com/2019/08/20/friends-library-pushes-renovations-aiken-county-public-library/
https://www.aikenstandard.com/news/funding-partnership-to-be-proposed-to-modernize-aiken-county-public/article_18b87ec0-c1cf-11e9-9412-3f65c7250ac8.html